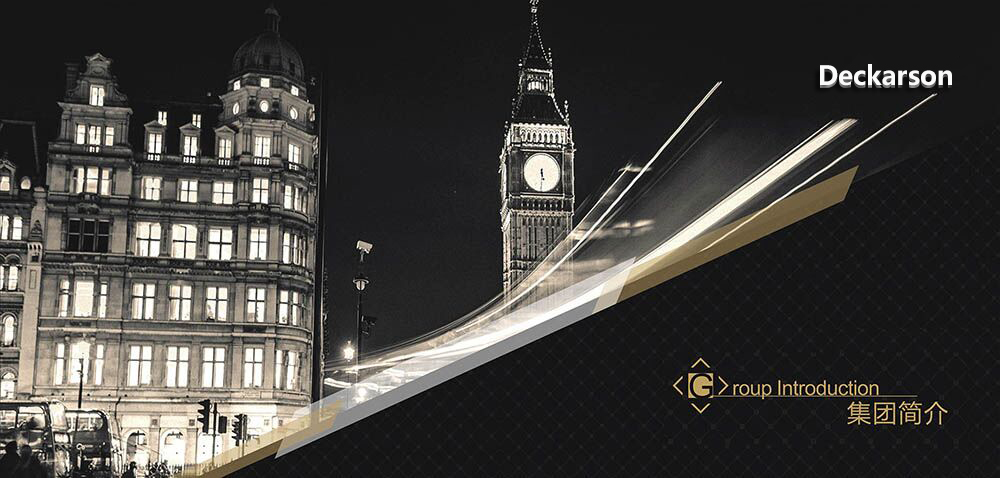 ‍
重庆市德卡森新型建筑材料有限责任公司,生产基地坐落于重庆市沙坪坝区井口工业园,隶属于英国伯明翰德卡森集团,是该集团在国内的重要分支机构;现已发展成为一家集防水涂料研发、生产、销售、施工为一体的现代化、专业化的大型企业。

  公司一直本着"质量为先,信誉为重,服务为诚,低碳、环保"的核心价值理念,多年以来不断的投入大量资金研发新产品,使产品更为贴近市场,品种多元化满足不同客户需求,大大提升市场核心竞争力,为开拓全国防水涂料市场奠定坚实基础。经过多年的发展现已在云南,四川,湖北等多地开设分公司。

专注、专业、专心是公司永远的发展目标,专注于低碳、环保新型防水材料的研究和开发,严格把控每一个生产环节,确保产品质量稳定可靠。德卡森是专业的防水系统解决方案提供者,为客户提供专业的市场分析、营销策略,制定完善的产品方案和售后服务方案。专心服务于客户,发扬德卡森品牌精神,真正做到德行于天下、五责立于身。
UK DECKARSON GROUP LTD was initially established as DECKARSON BUILDING MATERIALS LTD in 1990 by Mr. Smith Deckarson in the British manufacturing center of Birmingham. Mr. Deckarson was brought up in an impoverished region in Liverpool, where he suffered the leak, insect damage and cracking of the house. His childhood experience has left great impact on his life. With perseverance and hard work, he came to Birmingham and found DECKARSON BUILDING MATERIALS LTD.
In the 10th DECKARSON anniversary ceremony, Waterproof Technology Research Center,was formally set up.The centre was aim to focus on the research and development of waterproof materials.
European waterproof coating materials in the 20th century could not manage to be waterproof and meanwhile be actual eco-green and nontoxic,which had affected the living condition of vnlnerable groups such as pregnant women.Under the leadership of Dr Thomson,the centre developed DECKARSON green,nontoxic and waterproof coatings,which was certified with Eco Label by EUEB.
In2004,Dr Thomson and his team started a new research project,in which he added Granirapid into DECKARSON coating to level up its adhesiveness.Adding Granirapid solved problems like work on wet floor etc.this waterproof surface can be plastered the second time and directly tiled with stones or ceramics.
In2009,Dr James joined DECKARSON.Hepointed out that although the waterproof coatings are nontoxic,when the work last too long,harmful bacterium may still accumulate on the surface,which may lead to potential pollution and damage.
After more than 300 times of experiment on solutions to this problem,Dr James adopted the new generation coXN antibacterial nanotechnology,which determined the remarkable chemical stability of DECKARSON coXN waterproof coating(named K11 in China market ).It is not only waterproof and environmental friendly,but it also has effective protection against bacteria,therefore,it is suitable for areas with high hygienic requirements like baby`s room,nursing home,school dormitory,hospital,swimming pool,bathroom/toilet and other public places.
Themilitary industrial market advantage of Birmingham has provided DECKARSON with the development basis.DECKARSON cooperated with military industrial firms and adopted the military quality standard.DECKARSON has received European Quality Award and European Antibacterial Coating Nanotechnology Award,and was certified by EUB, EMAS,Allergy and Asthma Federation etc.
DECKARSON and its series of waterproof coating products have expanded its market into China since 2010,when it has been popular in Europe for 20 years.With head office set up in Chongqing and representative offices in several regions throughout the country,DECKARSON has brought into China the leading building material brand in Europe,and its advanced coating technology,equipment,as well as its concept and mission.